Rethinking how plastics are made and used
We are setting our goals even higher and are aiming at delivering a positive impact on pets, people and planet. We call it "betterness." By making sure the goods we produce have a meaningful purpose. We will not get there overnight. It's a step by step process, being consistent and remaining fully focused on making a change and giving back...
Making a Change
Making a change starts within... and that's exactly what we are doing. With a hands-on mentality we're taking on our design- and manufacturing processes to transform them even further into responsible and smart. Our answer to tackling the environmental challenges is based on 4 Re's: Re-educating, re-duce, re-use and re-cycle.
Step by Step: More Betterness!
Future Proof Headquarters
In 2022 we reduced the use of virgin material by 20%. With a new headquarters built for the future, we are confident about what 2023 will bring.
We are excited to share with you all the advantages we have in our new headquarters! We have an automatic high bay warehouse. In addition to being energy-efficient, our building is fully equipped with 6,153 solar panels, enabling us to generate 30% of our own energy.
As a result of the machines, we are able to heat the building using the residual heat.
Through these collective efforts, we are committed to daily progress, taking steps towards a brighter future.
Audited and Certified
WE MADE IT to a new level in our sustainability journey! We got audited and certified for the use of post industrial and post consumer recyclates in our MODERNA injection moulded products. Thanks to a great team effort, our Moderna Green Pact vision and our "betterness" strategy, MODERNA qualified for the QA-CER certificate, level 2. SO YES, we are proud, happy and excited!
More Recycled Plastic
We're increasing the use of recycled material to a level of 35% of our annual raw material volume, without compromising quality. Let's do this... and yes we can!
First +98% Recycled Plastic
Time to share with you our next major step towards a sustainable future. Proudly presenting our Gusto Bowls, made out of 98% Recycled Plastic. Revolutionary Product Line: Made out of recycled plastic, food approved and BPA-free! In contemporary attractive colors: Aquarelle, Spicy Coral and Warm Grey.
Going Paperless
More MODERNA Green Pact news... In order to be a more sustainable business, we set our goal to go paperless! By doing this we reduce our office waste and carbon footprint drastically… Thanks to the help of our partner Arcade Business Consultancy, we achieved our goal and now we are saving more than 10.000 pieces of paper a year! Want to learn more? Watch the video! #Sustainability #ModernaForHappyPets #ModernaGreenPact
Ticking the box… SDG Number 12!
Our MODERNA USA plant in Gaffney SC is going for sustainable growth by installing their first "all-electric injection molding machine". It will be using energy a lot more efficiently, using fewer resources and performing to future standards. All-electric injection molding machines consume energy only when required for a given action, and the motor output is matched to load requirements. It's part of our sustainable plan written earlier this year; applying "betterness" in order to become a futureproofed organization. Stay tuned for more updates and join us for a ride towards a more sustainable world.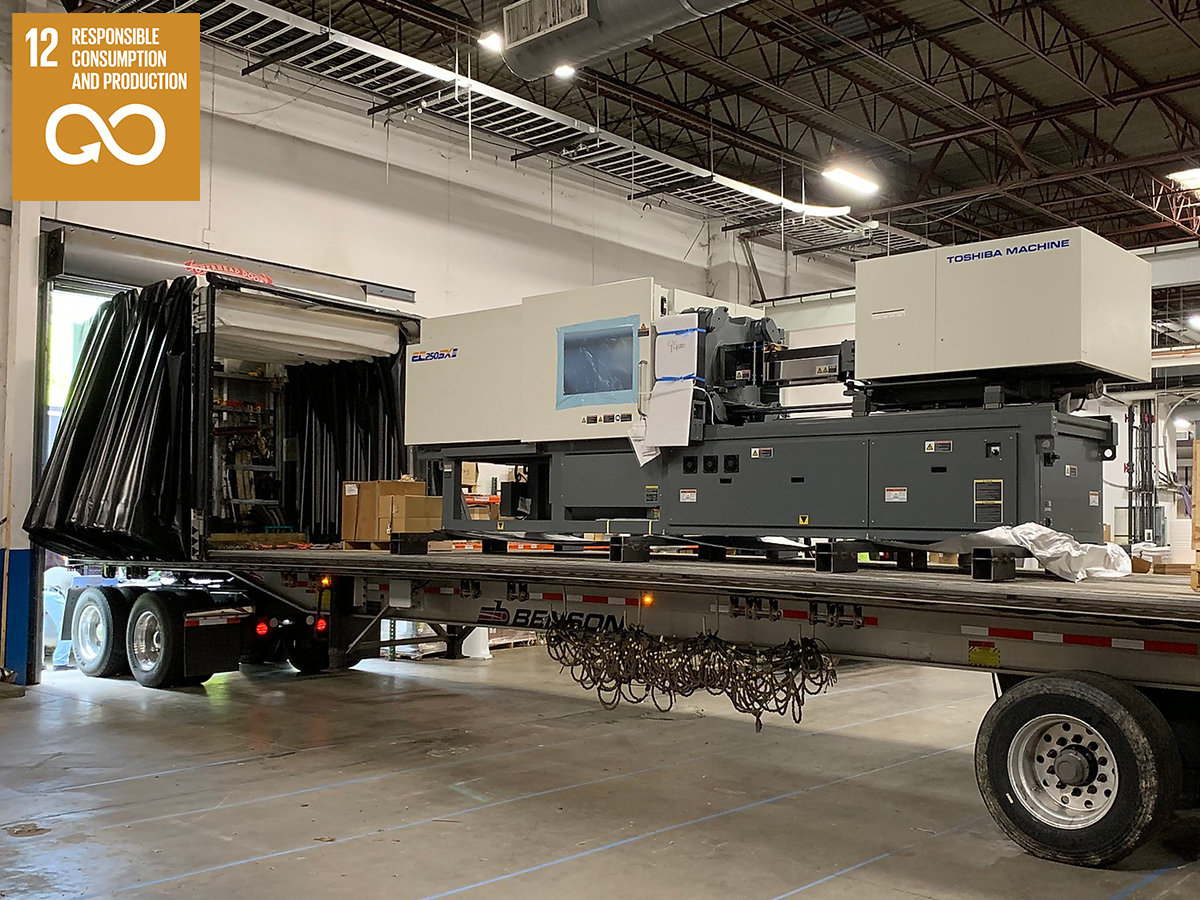 Cool New Cooling System!
A new eco-friendly cooling system has been installed in our Belgium plant... the air cooled system allows us to increase capacity and also saves on electricity, which is always a good thing for the environment. The separate sections were carefully lowered into place by crane and were up and running the day after!! Cool stuff!!
Responsible Production
At MODERNA we have been embracing durability since day one. Sourcing premium quality raw materials and designing multi-use items that last a lifetime and are 100% recyclable, is all part of our vision on ecology. Along with a well thought process of optimized logistics. We're not only making a change on product level... the MODERNA production site in Belgium recuperates all the excess heat generated from their production and re-uses it to heat all of our buildings.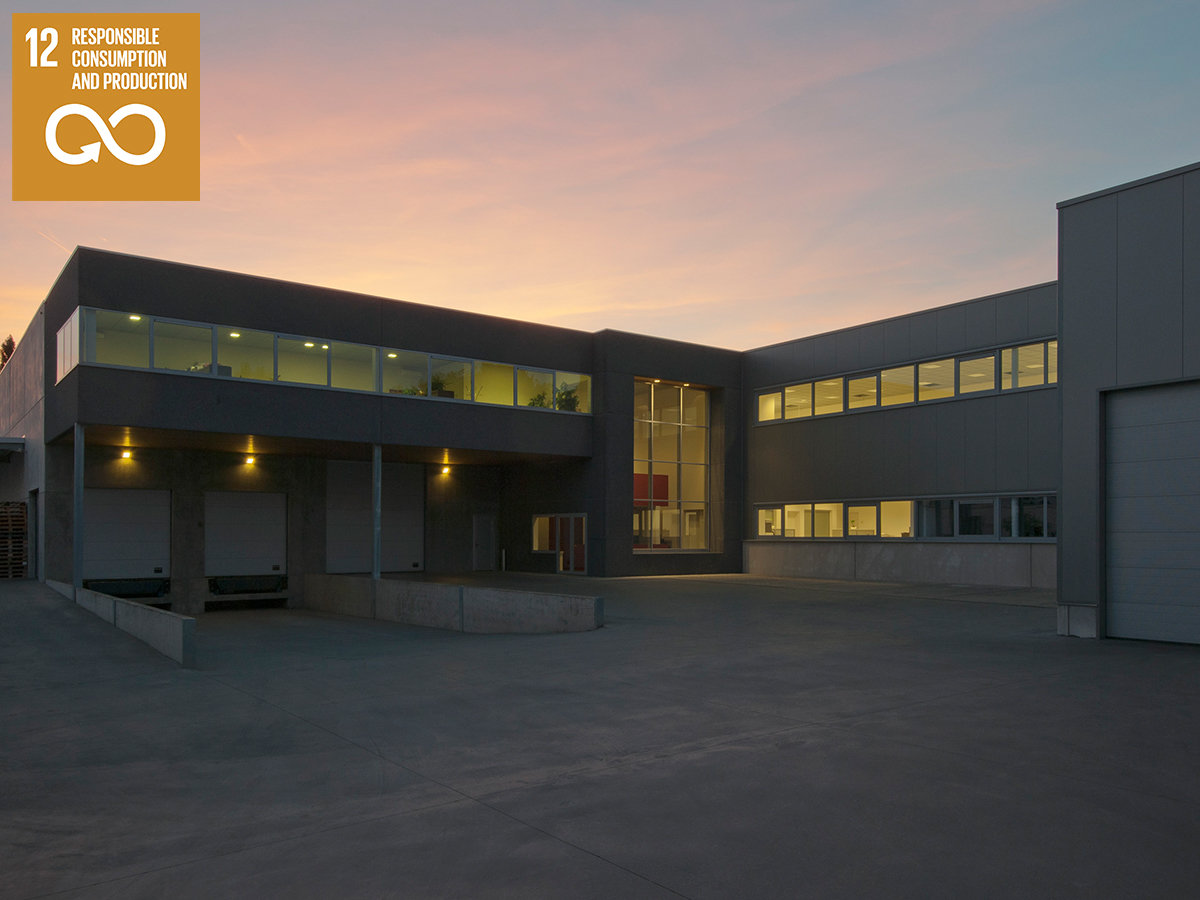 Sustainability is about so much more than ecology. It is about all the initiatives guiding our organisations into future proof businesses. And yes, we are committed to that.